How to see audit results
You can se audit results once you complete all sections (and all mandatory indicators).
Progress must be at 100% and you will see a green dot.

The Universal Standards Report and Client Protection Report buttons will appear, as well as the "Finish audit" button.

How to see results with benchmarks
SPI online gives immediate access to real time benchmarks.

Benchmarks come from high quality audits in the CERISE database. CERISE reviews incoming audits and gives each one a quality score based on the level of completion, quality of comments, and the auditor's experience.
Add benchmarks for profit or non profit peers by selecting profit or non profit, then click "Filter":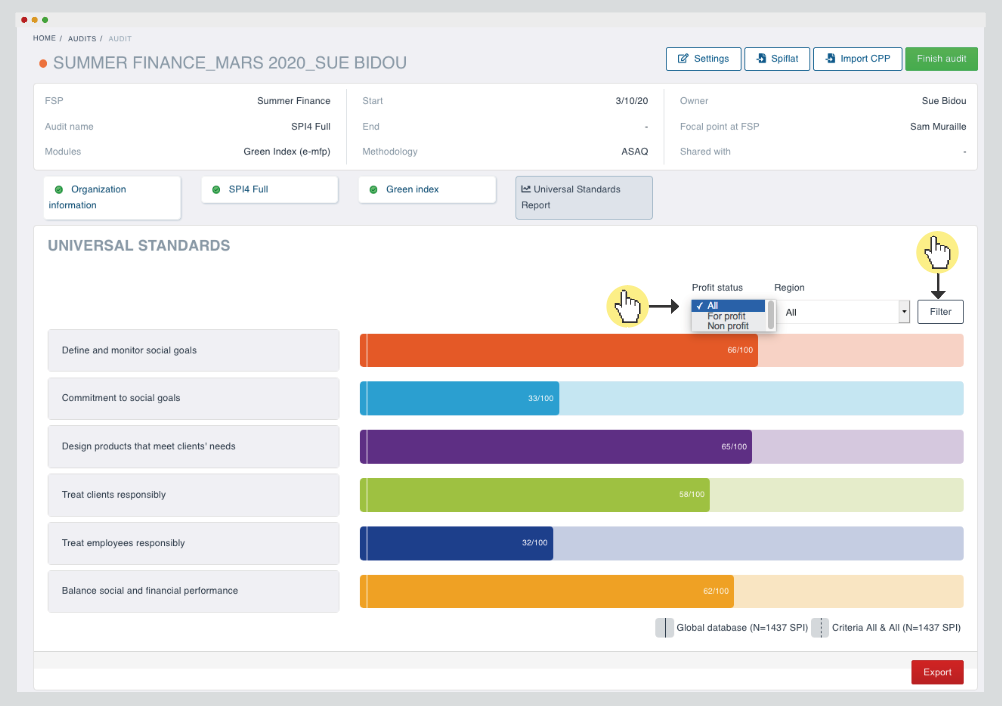 Add benchmarks for regional peers by selecting the region, then click "Filter":

The number of audits used for the benchmark appears on the bottom right side, under the graph.
You can also download benchmark tables in Excel for SPI4 and ALINUS (updated quarterly—the SPI online benchmarks are updated in real time based on the audits entering the database).

Finish an audit

When you click on "Finish audit", CERISE receives a notification to review your audit in order to integrate it into the SPI4 database and determine if it can be used in the benchmark analysis.
IMPORTANT! Once you click on "Finish audit", the audit is locked, and you cannot make changes anymore. But don't worry, you can ask CERISE to unlock your audit if necessary at support@cerise-spm.org.
Download results
You can download your Universal Standards scores by Dimension and Standard and the SPI4 and ALINUS dashboards in an Excel file (with macros) to make it easier to share and communicate results.
From the Universal Standards Report page, click "Export":

Be patient, it takes some time to download!
Save the Excel file on your computer.
When you open the file, accept macros, and be patient again! It takes some time to update the contents and product all the reports (Universal Standards Report, Client Protection Report, SPI4 social dashboard and/or ALINUS dashboard, Green Index Report, Transparency Report).
You will have access to different dashboards depending on whether you do a SPI4 Full or ALINUS assessment. You can recognize the SPI Full report by the red results buttons. An ALINUS report has pink results buttons.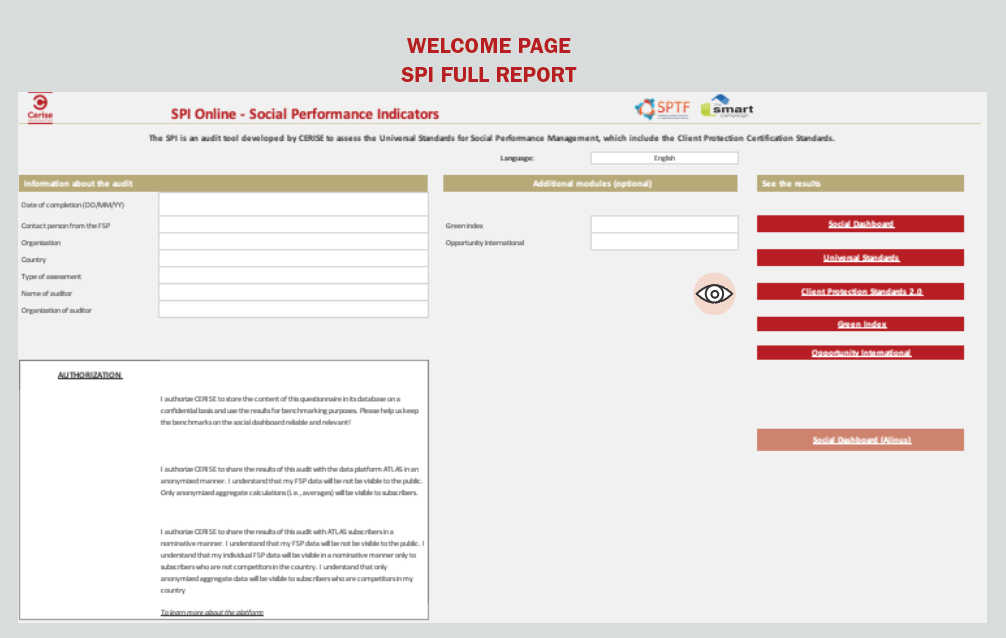 DID YOU KNOW? Even with an SPI4 Full audit, you can have access to ALINUS results! 
See the list of investors who use ALINUS or ALINUS indicators as part of their social due diligence, and who may be interested in see your ALINUS assessment before their visit!
Still need help? support@cerise-spm.org