Audit owner
When you create an audit, you become the Owner of this audit.
It means that you are the only user able to edit an audit's settings and manage sharing permissions, i.e., invite people to VIEW or MODIFY the audit.
Owners can edit the audit settings at any time during the audit process.
Owners are the only users able to delete an audit, provided it has not been finished.
If you do not see settings on the audit page, it means you are not the Owner.
Naming an audit
We suggest that you name your audit like this:
Name of audited FSP – YYYY – Name of auditor or auditor's organization
It will help you easily navigate among your audits!
Edit an audit's settings (owners only)
Only the Owner can edit the audit's settings.
FSP staff members of the audited FSP and External auditors who have been invited to an audit cannot change the settings.
To edit settings, from "My audits" page, click on the edit icon in the title: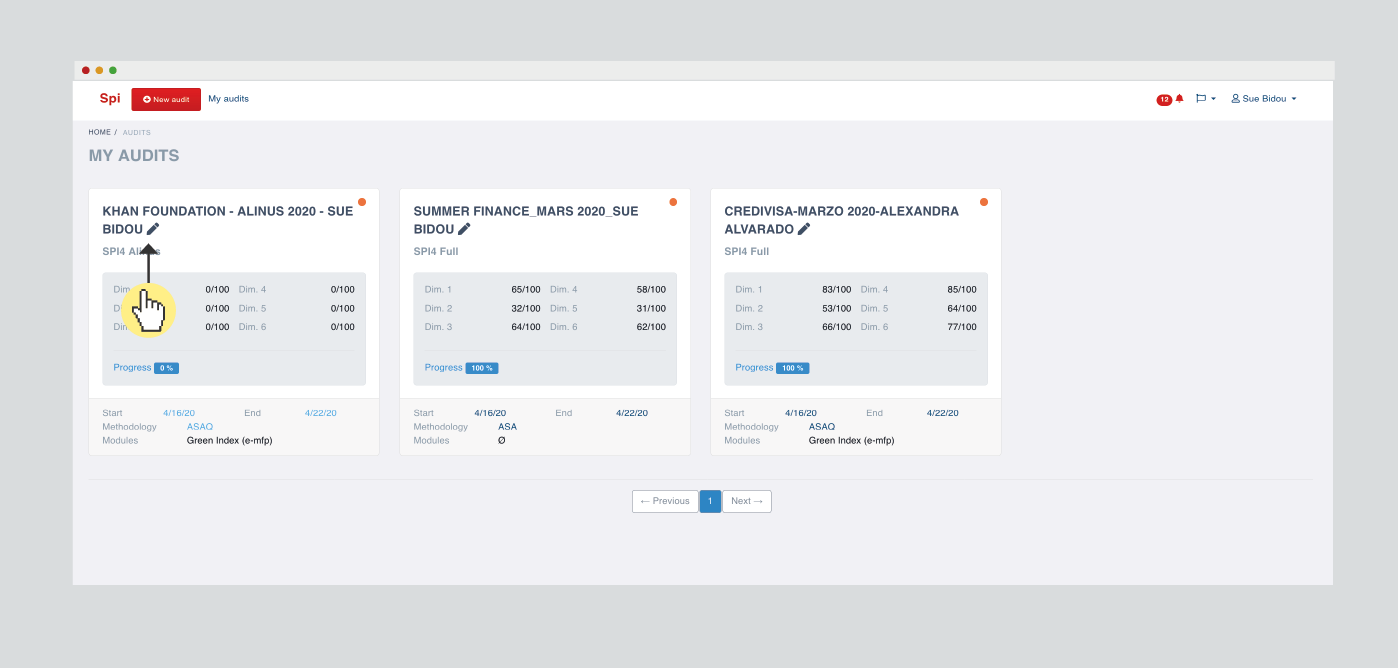 Then, "Settings" in upper right corner:
This is the audit settings page:
1. Information about the audit
Give your audit a name.
Fill in the name of the audited financial service provider.
IMPORTANT! Consult this list of FSP names to make sure you use the correct name, so that audit can be associated with the FSP account!
"Name of the Focal point at FSP" will be automatically filled in if (1) someone from the FSP already has an account on SPI and (2) the FSP name is written correctly.
---
2.  Audit methodology
ASA= Accompanied Self-Assessment: the FSP is accompanied by an external auditor.
ASAQ= Accompanied Self-Assessment by Qualified Auditor who has gone through the qualification process with CERISE. See the list of qualified auditors on our website.
SA= Self-Assessment: the FSP is audited by a FSP staff member.
---
3. Type of assessment
Select SPI4 Full for the full SPI4 questionnaire.
Select SPI4 Alinus for the smaller sub-set of SPI4 indicators used by social investors for social due diligence, monitoring and reporting.
---
4. Green Index
You can add the optional module Green Index (automatically activated if you choose ALINUS). This module is for FSP to assess environmental performance and add additional indicators for a deeper analysis of environmental aspects.
Green Index is developed by the e-MFP Microfinance and Environment Action Group.
Sharing an audit
With SPI online, it is easy to share the audit with anyone. They just need an account on SPI to be able to access the audit. The audit Owner decides on viewing or modification permissions.
Give VIEW access to members of the audited FSP
Check the first box to give VIEW access to members of the audited organization who already have a SPI account. If they don't have an account, the Focal point for the FSP must add them as members.
---
Give MODIFICATION permissions
If you want people to MODIFY the audit, you must add their email here, even if they already have viewing rights. You can invite anyone—FSP staff members, fellow auditors, co-workers, external partners, etc.—they just need a SPI online account to access the audit.
Type the email address of the people you want to add.
They will receive an email with a link to validate. If they do not have a SPI account, they will be asked to create one. 
IMPORTANT! There is no send button. Simply type the address and click on "Start online" or "Start offline" for your request to be validated.
---
How do I know who has MODIFICATION permissions?
The name of the invited person appears first with X. Then, when the person has accepted the invitation, it appears with a green check.
You can invite as many people as you want (but be careful, they will be able to modify and complete the audit, so you must be sure you work closely on the audit).
---
Removing modification permissions
To cancel an invitation to share an audit and ­­takeaway modification privileges, click on the Trash icon next to the email addressof the contact you wish to remove and select "Validate".
Authorizations and data sharing
By using SPI you allow CERISE to STORE your data
When you create an account on SPI online, your data (account and audits) is automatically stored online, safely and confidentially through CERISE's server OVH, based in France.
Learn more about our privacy and data protection policy.
---
CERISE will only USE your data with your authorization
One of the many benefits of collecting social data with SPI is that users can compare their results to a database of hundreds of audits worldwide.  But we need your help to keep benchmarks reliable and relevant.
Check the first box and you authorize CERISE to use your data to build the benchmarks that appear on the results page when you complete your audit.
If you do not authorize CERISE to use your data, then CERISE will not review your audit and your audit will not be integrated to CERISE's database.
IMPORTANT! This box must be checked in the current version of SPI for reasons relating to the General Data Protection Regulation in Europe. If you do NOT want your data to be used for benchmarking, contact CERISE at cerise@cerise-spm.org.
---
CERISE will only SHARE your data with your authorization
Check the second box, and you authorize CERISE to share your data in an anonymized manner with ATLAS, the data platform by MicroFinanza Rating (MFR).
ATLAS centralizes data on pricing, social, green and financial performance. The centralized data is not publicly available. The data is exclusively accessible for the subscribers to ATLAS (ex., financial service providers, investors, international networks, regulators), in compliance with a confidentiality agreement established between data providers (like CERISE) and ATLAS.
If you check this option, individual FSP data will not be publicly available or visible. Only anonymized aggregate calculations (i.e., averages) will be visible to subscribers to ATLAS.
Check the third box, and you authorize CERISE to share your data with ATLAS in a nominative manner. This means that users who have paid a subscription fee can see the scores by dimension of the audited FSP. Individual FSP data will thus be visible in a nominative manner only to subscribers who are not competitors in the country. Only anonymized aggregate data will be visible to subscribers who are competitors in the country. Download the brief prepared by the ATLAS to learn more about the benefits of reporting anonymized or nominative data.
Delete an audit (owners only)
Only for Owners. Go to the audit "Settings" and click on "Remove" at the bottom of the page. Audits cannot be deleted once they are finished. If you need to delete a finished audit, contact CERISE at support@cerise-spm.org
When you delete an audit, it is no longer available online. If you want to keep a record of your audit, we suggest you download a SPIflat before deleting your audit.