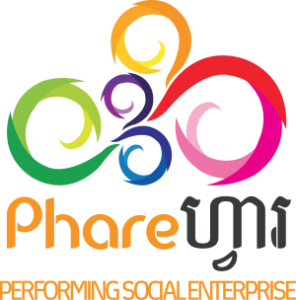 Phare Performing Social Enterprise (PPSE)
PPSE hires artists who have graduated from the Association Phare Ponleu Selpak (PPSA) training classes. It was founded to ensure the sustainability of PPSA, a Cambodian NGO that was created in 1994 to provide education in the arts to young Cambodians to enhance their formale education. It currently receives some 1200 children in a 20-year-old public school in the Battambang area.
Palmis Enèji
Palmis grew out of an NGO programme and is just being established; it benefits from a partnership with a large company; and its financial structure as a public limited company is complex enough
Le Relai Madagascar
Le Relai Madagascar sorts 4200 metric tons of textiles per year. The profits earned helps finance the launch of other activities, including garment manufacturing, car building, rice, waste treatment and a hotel business.
Nafa Naana
Nafa Naana ("the benefit has come") gives Burkinabe families (especially the poorest) access to economic goods that improve living conditions and contribute to reduce massive deforestation: gas cookers, improved cookstoves, solar lamps, and the like.
Nutri'Zaza
Nutri'Zaza's goal is to sustainably combat chronic child malnutrition in Madagascar. Nutri'Zaza distributes a food supplement called KobaAina to disadvantaged populations through different innovative networks.
CAMNAFAW
Major Cameroonian actor of family planning, access to reproduction health, and rehabilitative care covers for fragile minorities, CAMNAFAW benefited in 2015 of a World Fund funding which represents up to 75 % of its total budget. This project turns out to be both a source of opportunities and of constraints for the future of the structure. As a consequence, CAMNAFAW launched an in-depth reflection on its capacity to generate income, and the organization now wishes to eventually be able to cover its costs.
ETD
ETD is a leading player in the Togolese development landscape. It operates mostly in the reinforcement of local skills and decentralization. Its main product is the ESOP, an intermediate company which structures organizations of small producers. The ESOP collects, transforms and markets local productions, mainly aimed at a national public with a purchasing power, by ensuring a fair allocation of the added value among the whole value chain.
APIL
Strongly seeped in the collaborative values of the social and solidarity economy, APIL leads and accompanies field-based organizations in defining their needs, in consolidating these needs at the local level, and eventually in their validation in general assembly. APIL integrates two units of collection, transformation and marketing of its beneficiaries productions to these programs : a honey house and a dairy. These units have the distinctive feature of generating income and being profitable for APIL.